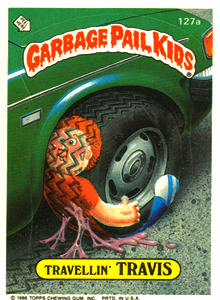 Little kids just love a horribly misguided cash-grab movie off a popular trading card. And like most movies for 9 year olds it features: Uncomforable sexual tension, attempted murder by torture and drowning, a creepy middle aged guy hand-bathing a barely-teenage boy, umm.. a look into the competitve world of independent fashion design(?) and of course, nightmare-inducing life-sized puppets. Also.. Peter Dinklage cameo!
Oh man, this one's got it all. A movie so wrong on so many levels it's almost... well.... right. Almost.
Before that we wax nostalgic about the cards themselves, which are much more appealing and appropriate for kids than the movie.
Musical Interludes: "You can be a Garbage Pail Kid" by Jimmy Scarlett and The Dimensions, "Working With Each Other" by the Garbage Pail Kids (robbed at the '87 grammys, IMO), "We Care A Lot" by Faith No More